Benefits of Joining Bayise as a Tutor, Student, Writer or Assignment Helper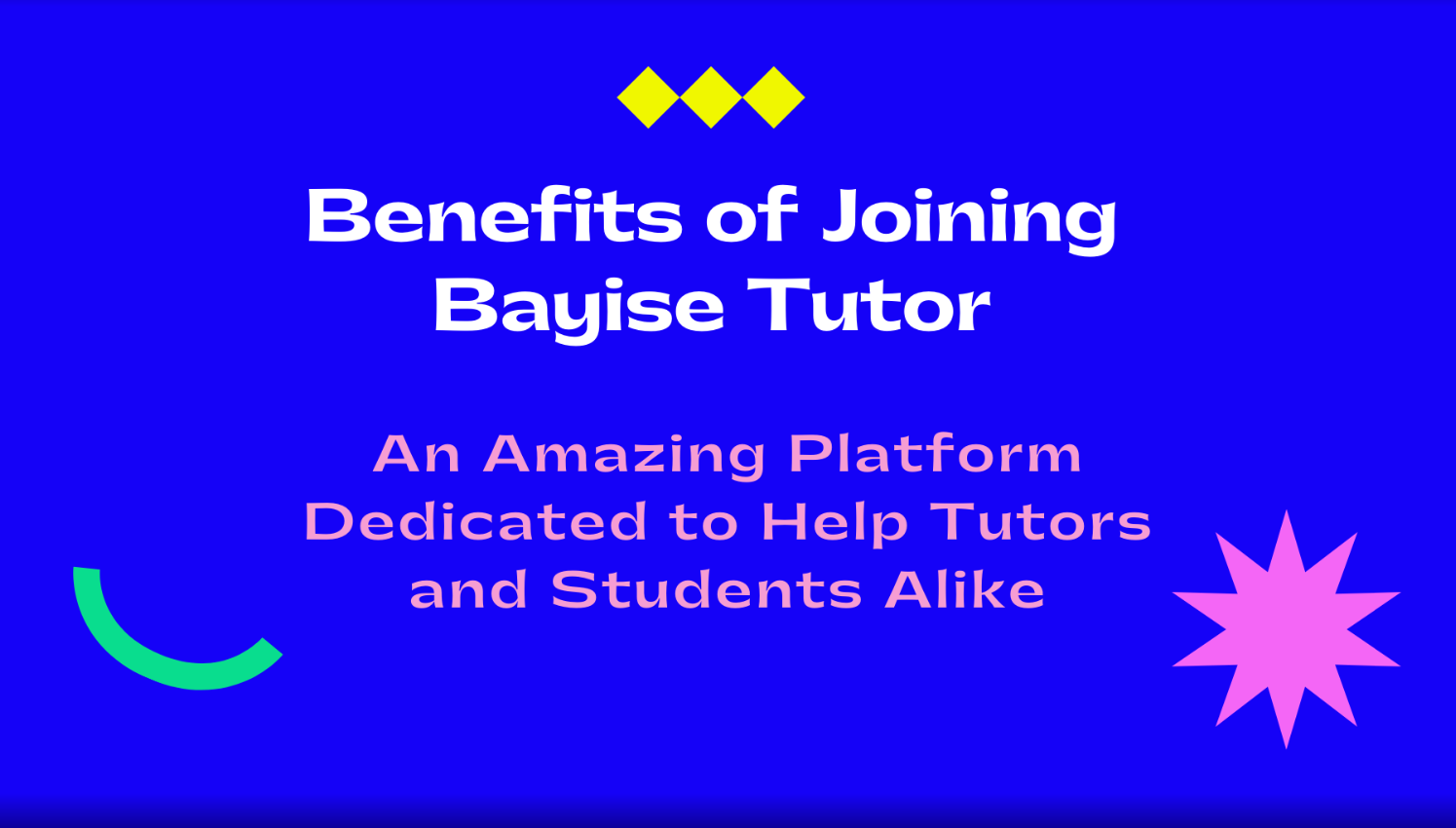 Benefits of Joining Bayise as a Tutor, Student, Writer or Assignment Helper
Bayise Tutor is an amazing platform dedicated to help tutors and students alike. This innovative tutoring platform is student-centric and is committed to provide a helpful study experience. It facilitates students with personalized online tutorials, assignment help, in-person tutors, online up to date study materials, recorded sessions, and much more. Bayise Tutor promises an exponential growth of students with the help of skilled and effortless teaching tactics of tutors from all around the globe. Not only students but tutors are also greatly benefited by Bayise Tutor. With an easy-to-use interface and options such as writing jobs, recorded pay-walled study material upload option, numerous booking by bidding, Bayise Tutor has made it easier for tutors to work.
Bayise Tutor is simply the best online teaching platform today. It has benefited people from all over the world with its accessibility and affordability strategies. It works as the meeting ground for the students who are looking for writing jobs, wanting to study and improve their grades and the skilled tutors who are ready to share their wisdom, online and offline. Let's look at some of the key benefits of this platform:
Recorded Tutoring Sessions
Bayise Tutor is the best online tutoring service. You can book an online tutoring session for yourself by choosing a professional in the field on its website and mobile app. The best feature of this online tuition platform is that once you attend a session, it will be available to you 24*7. You will not even have to download it. You can go back to watch and take notes whenever you want. Booking a session is a piece of cake, you have to register on Bayise and follow a sign-in link to book the session. You will have multiple options to choose from.
In-person Tutoring Sessions
Yes, Bayise Tutor understands the need for face-to-face and classroom teaching experience. Also, that school students require more attention than just online lectures. Bayise Tutor provides offline services also. You can book an in-person tutoring session for your ward or yourself with a skilled tutor. The booking guidelines and ways remain the same.
Online Group Study Sessions
When we say that Bayise Tutor is the best online teaching platform, we mean it. No other teaching platform matches the innovations of Bayise Tutors in terms of feasibility to students. For instance, there's no other online teaching platform that has an option to take group study sessions online. This is cost-effective as well because the tutoring session's cost is divided amongst group members and it is not paid by a single individual.
Booking by Bidding
Bayise Tutor offers the feature of "Booking by Bidding". Even the low-budget students can book the best online tutoring sessions by skilled professionals because of this feature. This supports tutors, as well, to find the best-paying gig for them. This is the most affordable and best online teaching or tutoring platform for it gives the option to pick classes within your budget. All you have to do is register on the Bayise Tutor website or mobile app, and submit a "Session Bidding" request, select your budget there and Bayise Tutor will work within your budget to pair you up with our best tutors immediately.
All Standards
Bayise Tutor provides online tutoring sessions for every field of study of discipline from sciences to humanities. It also provides tutors from kindergarten students to grad students. There are language professionals, computer and coding tutors and STEM teachers etc. You can find tutors from primary classes to college and university disciplines.
Content Writing and Copywriting Services
If you are a student or a professional writer who wants to earn some extra bucks and upskill yourself, you are in the right place. Bayise Tutor offers writing jobs, work-from-home online writing jobs and assignment writing assistance for students. These are great ways to earn some extra money and gain some skill experience for the future. These online writing jobs for students and other professional writers can be taken by tutors as tutoring jobs can be taken by students who are capable and experienced.
Upload Study Material
If you are a tutor who likes to create engaging and creative content for your students, Bayise Tutor is the place for you. You can upload your video lectures, video guides, online tutoring recorded sessions on Bayise Tutor. Students will pay to access your quality content and you will earn from it. This helps busy students who want to learn things out-of-clock time and likes to watch creative and engaging content. The study material upload option helps tutor earn a passive income once they have uploaded, they don't need to give it time again and again.
Free Demo Classes
You are definitely in for a lot of happy surprises when you connect with Bayise Tutor. The one thing you are not in for is a bad experience. You can check and make sure that the tutor you have chosen for yourself gels well with your style of studying. Bayise Tutor gives the option of free demonstration classes of 30 minutes. Although this is entirely up to a tutor if they want to provide this option in their profile or not, most teachers do and you can check for yourself by registering to the best online tutoring platform - Bayise Tutor.
Assignment Help
School time is loaded with worksheets, assignments, homework exercises that require an adult to supervise. Tutors help complete these to save parents' time. Similarly, other assignments, at school, college and university level, may require supervision and help.If you want help doing your academic work, school homework, assignment help, you can hire tutors from Bayise Tutor to online help you with your assignments. Tutors get paid for their help. Some of these assignments help involve simple writing work which is taken by students to earn extra bucks. All in all, Bayise Tutor helps everyone get what they want. Register now for the best online teaching platform.